Welcome to the website of Farnborough Old Boys Guild Football Club, founded in 1932 and affiliated to the Kent County FA.
We hope you enjoy your visit.
RESULTS
Sunday 27th September 2020
Friendly

Vets
Matt Kerby 4, Steve Shippey, Paul Tanton.
6 - 0
Match report

Friendly

Match report

Selkent League
Under 13A
Colts
Giounison Makris 2, James Green
3 - 1
Saturday 26th September 2020
Kent County League
Premier Division
0 - 2
First XI
Toby Palmer, Kalum Daini
Kent County League
Division 3 West
Reserves
Nick Pitt 2, Mike Cole, Matt Edmonton
4 - 0
Bromley and South London Football League
Division 1
1 - 3
Third XI
Alex Barnes 2, George Osman
Bromley and South London Football League
Division 2
Fourth XI
Jack Hollidge 4, TJ Kode, Sam Clarkson
6 - 2
FIXTURES
Saturday 3rd October 2020
Sunday 4th October 2020
NEWS
NHS COVID-19 Contact Tracing App
Download the the official NHS COVID-19 contact tracing app HERE.
Sunday Round-up
The Sunday XI were beaten 4-0 away to LAS in the league but manager Vince Wray was upbeat, saying his team were much better than the scoreline suggests.
The Sunday Reserves suffered their first league defeat since 5 November 2017. The Wall won 1-0 at Farrow Fields, ending a run of 36 unbeaten league matches. The Wall have now beaten both Jack Standen Cup finalists (FOBG Sunday Reserves and Blendon) 1-0 in league games to top the early table.
The Vets won 6-0 at home to Charlton Rangers Vets. Matt Kerby got four goals, with Steve Shippey and Paul Tanton also netting. Tant was hit in the eye from a stray clearance just after scoring and was taken to King's College Hospital where a diagnosis of bruising to the eye was made. So fortunately a full recovery is expected. Mark Harrington's match report can be read HERE.
The Senior Vets lost 2-0 away to Erith Vets. Read Patrice Mongelard's report HERE.
The Colts' long-awaited league season opener came at Farrow Fields against Erith & Belvedere. Giounison Makris (2) and James Green scored for FOBG in a 3-1 win.
Saturday round-up: another clean sweep!
Might be going out on a limb here but I don't remember two consecutive Saturdays with four wins out of four! This week all four teams were involved in league matches.
The First XI made it three wins out of four (and three clean sheets) with a 2-0 win away to Tudor Sports, with Toby Palmer and Kalum Daini on the scoresheet.
The Reserves put in an impressive performance at home to Long Lane Reserves with a 4-0 victory. They were put on their way with a second-minute, 40-yard goal by Matt Edmonton. Player-manager Nick Pitt scored two and captain Mike Cole one.
The Third XI travelled to Mottingham and came away with a 3-1 win against Lewisham Project, recovering after a poor start which saw them a goal down. Alex Barnes got a brace with George Osman also hitting the net.
The Fourth XI also had a bad start, falling two goals behind at home to Peckham Town, before rallying to run out 6-2 winners. Jack Hollidge marked his 100th appearance for the Guild with four goals. TJ Kode got his customary goal and Sam Clarkson also hit the net, his first-ever goal as an outfield player for FOBG. He scored while playing as a keeper for the Reserves in 2010. Not even his dad went ten years without a goal!
FOBG COVID-19 Guidelines
The club has amended our COVID-19 rules in accordance with government and Kent County Football Association guidelines.
With immediate effect:

1. Unfortunately due to the letter received from Ellie Bainbridge, Designated Safeguarding Officer to the KCFA, the club cannot offer changing room facilities. We are currently looking at how we can offer an alternative outside solution.

2. Unfortunately due to new government legislation introduced 14/09/20 the club will not be allowing spectators into the premises.

3. Unfortunately due to new government legislation introduced 14/09/20 the club cannot offer (bar) hospitality to visiting teams. Home teams will be allocated three tables of six in the lounge. All members must adhere to new lounge guidelines, details of which are to follow.

4. Entrance and use of the car park will be strictly limited to players and managers only (including opposition) and gates will be shut 30 minutes before kickoff.
Photos recently added
Colin Brazier has this week uploaded photos of these recent matches:
Got an injury or niggle?
Don't forget, we are subscribed to Jon W Sports Injury for all our sports injury needs.
Jon W Sports Injury is a leading sports injury clinic who work with many clubs in the area offering expert injury assessment, treatment and football-based rehabilitation programs for the effective recovery of all sports injuries.
Both therapists have worked and at professional and semi-professional football level. All Guild players receive £5 off every treatment session with them (making a 30-minute appointment just £21). More information can be seen on their website www.jonwsportsinjury.co.uk but please feel free to contact them to discuss any needs.
Jon W Sports Injury has clinics in The Warren, Hayes and Charterhouse Road, Orpington. They operate flexible working hours to allow for after school/work appointments. They can be contacted at jonwsportsinjury@hotmail.co.uk or on 07825 835305.
Enamel Badges
We have a new supply of FOBG enamel badges @ £3.50 each including postage.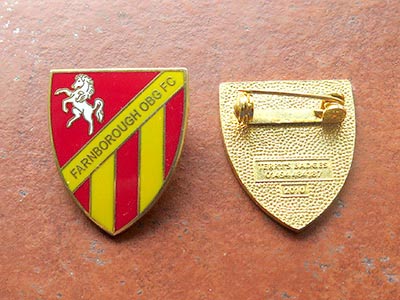 Email the club at mailbox@fobgfc.org if you would like to place an order.
Jazz at FOBG suspended
The Friday night jazz will not be running until further notice.
Our Social Media
As well as our website, we have an official presence on Facebook, Instagram, YouTube and Twitter. In addition, most of our nine teams have their own Twitter accounts.
Follow us on social media:
Twitter:
@fobgfc

(official, including First XI);
@fobg_reserves

(Saturday Reserves);
@fobg_sunday_1st

(Sunday First XI);
@fcfobg

(Sunday Reserves);
FA CHARTER STANDARD

FOBG has held FA Charter Standard Adult Club status for several years now. This is official recognition by the Football Association given to non-league clubs that have demonstrated that they are well run and sustainable. It also recognises the club's commitment to coaching, player and coach development, and the raising of standards of behaviour in the game.
The benefits of having Charter Standard status include:
Use of the FA Charter Standard Logo
Enhancement of funding applications and bids
Kit and equipment grants from the Football Foundation
Exclusive workshops
Starter pack, including posters, codes of conduct, certificates
This represents a major step forward in the development of Farnborough OBG FC and illustrates the ambitions of the club to develop further both on and off the field.
Many thanks to Malcolm Poynter for his hard work in achieving this recognition for the club.
More information regarding FA Charter Standard status.