Welcome to the website of Farnborough Old Boys Guild Football Club, founded in 1932 and affiliated to the Kent County FA.
We hope you enjoy your visit.
RESULTS
Sunday 25th October 2020
OBDSFL
Senior Division
Sunday XI
Dekklund Wallace (pen.) Alex Wray, Elliot Miles
3 - 2
OBDSFL
Premier Division
1 - 2
Sunday Res.
Steve Townsend (pen.), Ryan Penton
Friendly

Vets
Alan Fines 2, Sean Blackwell 2, James Rutter, Chris Morris
6 - 1
Friendly

P - P
Senior Vets
Waterlogged pitch
Saturday 24th October 2020
Kent County League
Premier Division
First XI
Dekklund Wallace, Lee Friend, George Perfitt (pen.)
3 - 0
Queen Mary Cup
2nd round
2 - 4
Third XI
George Osman, Kieran McWilliam, Ed Williamson, Grant Kelsey
Bromley and South London Football League
Division 2
Fourth XI
George Perry, Tommy Chalker
2 - 1
FIXTURES
Tuesday 27th October 2020
Saturday 31st October 2020
Sunday 1st November 2020
NEWS
Weekend Round-up: Another Clean Sweep!
We had another clean sweep this weekend!
The Sunday XI beat Portland 3-2 with goals from Dekklund Wallace, Alex Wray and Elliot Miles.
The Sunday Reserves avenged their earlier defeat by The Wall, winning 2-1 in the reverse fixture away from home. Steve Townsend and Ryan Penton scored for the Guild.
The Vets continued their fine form with a 6-1 win against Inter Vyagra Vets at Farrow Fields. Alan Fines and Sean Blackwell scored two each, with James Rutter and Chris Morris completing the scoring.
The heavy rain of the last 24 hours put paid to the Colts' and Senior Vets' away fixtures.
The First XI beat Stansfeld O&B Club 3-0 at Farrow Fields on Saturday in a much harder game than the score suggests. Dekklund Wallace opened the scoring after 20 minutes, with Lee Friend and a George Perfitt penalty adding second half goals.
The Reserves had no match scheduled today. Happy 31st birthday this week to manager Nick Pitt!
The Third XI recovered from a 1-0 half-time deficit to win 4-2 away to Beckenham in the Queen Mary Cup. The Guild's goals were shared between George Osman, Ed Williamson, Kieran McWilliam and Grant Kelsey.
The Fourth XI maintained their 100% league record with an important 2-1 home win against Crofton Albion. George Perry and Tommy Chalker were on target.
The Vic Farrow Stand Finally Unveiled
Press Release
After a six-month Covid delay, Farnborough Old Boys Guild FC finally unveiled their new 50 person Vic Farrow stand, funded by a Bromley Council grant with a small but equally appreciated contribution from the Farnborough Village Society..
Club chairman Danny Saines, pictured with Farnborough and Crofton Ward Councillors Robert Evans, Charles Joel and Christopher Marlow, thanked the Council for their investment, which is all part of a longer term strategy in ground and pitch improvements.
Danny said "With a growing Saturday morning Academy, Junior Colts and Orpington District teams, along with the long established eight senior teams, funding such as this really does help a community club such as Farnborough OBG and we look forward to working with the ward councillors in the near future on other similar projects".
The club is currently looking to bring in further junior football to complement the senior teams who play in the Kent County, Bromley and South London, and Orpington & Bromley District leagues and Vets friendlies.
For more information contact FOBG at mailbox@fobgfc.org.
First XI's Cup Final Postponed
The 2019-20 Kent Intermediate Challenge Shield Final scheduled for Friday 30 October betwen our First XI and Metrogas has been postponed.
Following is a statement from the Kent County FA's Football Service Officer Competitions, Matt Dixon:
"Following continued rises in coronavirus cases and the new tiered lockdowns being put in place, we are unable to offer the finalists the full cup final package that they deserve.
"We are restricted by the government/FA on ground capacity and clubhouses, team sheets cannot be exchanged, the presentation is very much watered down, whilst the use of changing facilities and showers remains prohibited.
"With this in mind a decision has been made to postpone the Intermediate Challenge Shield and look to play it in April/May 2021 when hopefully some of the current restrictions have been lifted, allowing us to put on our usual high standard spectacle cup final."
We are in COVID Tier 2
We are under COVID Tier 2 regulations as we fall into the London geographical area.
Under this "high" alert level, there is a ban on households mixing indoors, including in pubs and restaurants.
So although we can continue to host matches, we cannot offer any indoor hospitality to either visitors or home teams.
We have limited space outdoors for home teams and officials only.
NHS COVID-19 Contact Tracing App
Download the the official NHS COVID-19 contact tracing app HERE.
Got an injury or niggle?
Don't forget, we are subscribed to Jon W Sports Injury for all our sports injury needs.
Jon W Sports Injury is a leading sports injury clinic who work with many clubs in the area offering expert injury assessment, treatment and football-based rehabilitation programs for the effective recovery of all sports injuries.
Both therapists have worked and at professional and semi-professional football level. All Guild players receive £5 off every treatment session with them (making a 30-minute appointment just £21). More information can be seen on their website www.jonwsportsinjury.co.uk but please feel free to contact them to discuss any needs.
Jon W Sports Injury has clinics in The Warren, Hayes and Charterhouse Road, Orpington. They operate flexible working hours to allow for after school/work appointments. They can be contacted at jonwsportsinjury@hotmail.co.uk or on 07825 835305.
Enamel Badges
We have a new supply of FOBG enamel badges @ £3.50 each including postage.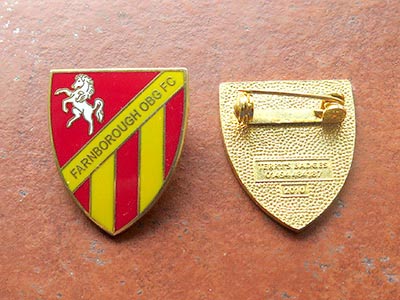 Email the club at mailbox@fobgfc.org if you would like to place an order.
Jazz at FOBG suspended
The Friday night jazz will not be running until further notice.
Our Social Media
As well as our website, we have an official presence on Facebook, Instagram, YouTube and Twitter. In addition, most of our nine teams have their own Twitter accounts.
Follow us on social media:
Twitter:
@fobgfc

(official, including First XI);
@fobg_reserves

(Saturday Reserves);
@fobg_sunday_1st

(Sunday First XI);
@fcfobg

(Sunday Reserves);
FA CHARTER STANDARD

FOBG has held FA Charter Standard Adult Club status for several years now. This is official recognition by the Football Association given to non-league clubs that have demonstrated that they are well run and sustainable. It also recognises the club's commitment to coaching, player and coach development, and the raising of standards of behaviour in the game.
The benefits of having Charter Standard status include:
Use of the FA Charter Standard Logo
Enhancement of funding applications and bids
Kit and equipment grants from the Football Foundation
Exclusive workshops
Starter pack, including posters, codes of conduct, certificates
This represents a major step forward in the development of Farnborough OBG FC and illustrates the ambitions of the club to develop further both on and off the field.
Many thanks to Malcolm Poynter for his hard work in achieving this recognition for the club.
More information regarding FA Charter Standard status.