Welcome to the website of Farnborough Old Boys Guild Football Club, founded in 1932 and affiliated to the Kent County FA.
We hope you enjoy your visit.
RESULTS
Sunday 28th February 2021
Friendly

P - P
Lads of the Village Super Vets
Saturday 27th February 2021
FIXTURES
Saturday 6th March 2021
Sunday 7th March 2021
Sunday Res. v.
No fixture
Vets v.
Riverside Wanderers
MATCH POSTPONED
Coronavirus
Senior Vets v.
Bird in Hand Vets
MATCH POSTPONED
Coronavirus
NEWS
Saturday Reserves Team Manager Required
Nick Pitt
has taken the decision to step down as the
Saturday Reserves
team manager at the end of the season.
If you wish to apply for the now vacant post please email
mailbox@fobgfc.org
stating your interest.
Alternatively,
club members
can contact either
Ian Couchman
,
Danny Saines
or
Luke Johnson
direct.
The application window closes on

Friday 26th March

.
Interviews will commence from
Monday 29th March
. They will be outside and following Covid-19 guidelines.
Once agreed, the chosen candidate will link up with
First XI
team manager
Luke Johnson
and assistant
Mark Warner
for 2021-22 pre-season training and friendlies, in preparation for the new season ahead.
Roger Abbott's Funeral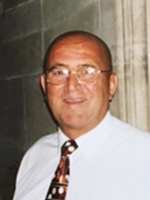 The funeral of Roger Abbott went off very well on Thursday 18 February at Vinters Park Crematorium. It was a humanist (non-religious) service lasting around 35 minutes with the celebrant, Kate Wood, relating the story of Roger's life, interspersed with a tribute from Kent FIFA referee Steve Bennett and a few music tracks.
The service will be available for a month as a watch-again video; if you would like details of how to view it please email us.
Donations to:
A Shedful of Work!
This week's behind-the-scenes project has been the re-siting of one of our sheds and tidying up the area whence it came (behind the boot-sink!).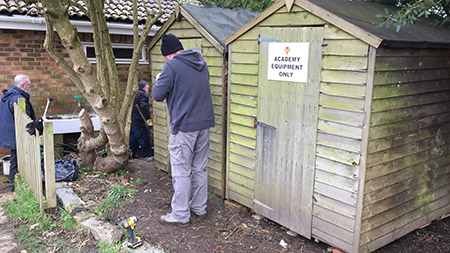 Volunteers involved were Chairman Danny Saines, President Ian Couchman and groundsman Steve Viner and grounds assistant Gary Willison.
Nick Pitt to Leave the Club at the End of the Season
Reserves Player/Manager Nick Pitt has announced that he will be leaving the club at the end of this season.
Nick has been with the Guild for seven years, joining the club as a player with the Sunday Reserves. He has scored 60 goals in 170 appearances for every Guild adult league team.
He took over the management of the Saturday Reserves for the 2017-18 campaign, and this season has them challenging for promotion; hopefully they will be given the chance to finish what they started.
Nick has been influential at the club off the pitch as well, being responsible for most of the recent structural improvements around the grounds and supporting the Guild through functions, notably Elvis Night!
We wish Nick all the best for his future endeavours and hope to see him back at Farrow Fields on a regular basis.
Get well soon Vince!
Sunday XI manager Vince Wray is progressing slowly but well, following a spell in hospital with Covid-19 pneumonia.
Everyone at FOBG wishes him a full recovery.
The club newsletter - 30 years back!
We have recently recovered data from Amstrad diskettes kept by secretary Vic Farrow relating to the period 1988-93. The documents include miscellaneous correspondence written using Vic's "word processor" (which he was very pleased with) as well as weekly newsletters which shed light on how the club rolled 30 years ago.
The newsletter was typed up by Vic once he had gathered the match reports and team selections and sent out by post to arrive through members' letterboxes each Thursday morning.
The newsletter from 30 years ago this week is available HERE. We hope to make all of them accessible through the archive page on the club website in due course.
NHS COVID-19 Contact Tracing App
Download the the official NHS COVID-19 contact tracing app HERE.
Our Social Media
As well as our website, we have an official presence on Facebook, Instagram, YouTube and Twitter. In addition, most of our nine teams have their own Twitter accounts.
FA CHARTER STANDARD

FOBG has held FA Charter Standard Adult Club status for several years now. This is official recognition by the Football Association given to non-league clubs that have demonstrated that they are well run and sustainable. It also recognises the club's commitment to coaching, player and coach development, and the raising of standards of behaviour in the game.
The benefits of having Charter Standard status include:
Use of the FA Charter Standard Logo
Enhancement of funding applications and bids
Kit and equipment grants from the Football Foundation
Exclusive workshops
Starter pack, including posters, codes of conduct, certificates
This represents a major step forward in the development of Farnborough OBG FC and illustrates the ambitions of the club to develop further both on and off the field.
Many thanks to Malcolm Poynter for his hard work in achieving this recognition for the club.
More information regarding FA Charter Standard status.