Welcome to the website of Farnborough Old Boys Guild Football Club, founded in 1932 and affiliated to the Kent County FA.
We hope you enjoy your visit.
RESULTS
Sunday 2nd May 2021
OBDSFL
Premier Division
1 - 1
Sunday Res.
Steve Townsend
Friendly

Vets
Alan Fines 3, Jason Miller, Steve Shippey
5 - 4
Friendly

Match report

Under 13 Red Shield

3 - 5
Colts
Finley Williams 2 (1 pen.), Giounison Makris, James Green, Lucas Boyle
Saturday 1st May 2021
Invitational Cup
Group stage
1 - 2
First XI
Kalum Daini, Lee Friend
Bromley and South London Football League
Division 2
4 - 3
Fourth XI
Tommy Chalker 2 (1 pen.), Andy Parsons
FIXTURES
Saturday 8th May 2021
First XI v.
South East Athletic
Comp:
Invitational Cup
Group stage
Third XI v.
Groundhoppers
Comp:
Bromley and South London Football League
Division 1
Sunday 9th May 2021
Comp:
OBDSFL
Senior Division
Comp:
OBDSFL
Premier Division
Senior Vets v.
Ashburnham Wanderers
Colts v.
Parkwood Rangers Elite
Comp:
Under 13 Red Shield

NEWS
In support of Mike Cole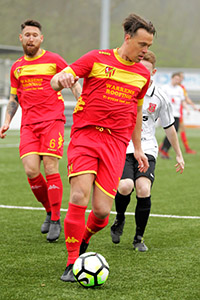 Sadly, we received the news recently that Saturday and Sunday Reserves captain Mike Cole has been diagnosed with skin cancer.
"Coley" is only in his third season with FOBG but has already established himself as a firm favourite with his team mates and around the club. He captained the Sunday Reserves to their Jack Standen Cup Final win against Blendon in September having already picked up a Kent Sunday Junior Trophy winners' medal in 2019.
Everyone at the Guild wishes Mike the strength to make a full recovery. The fight he gives in every match will stand him in good stead in this battle.
Kevin Lott has set up a GoFundMe page to help Mike pay his bills while he is off work. You can read more HERE.
Summer Trials for Under 14 Players
We will be holding summer trials for next season's Colts squad, which will be an Under 14 side next season.
Full details below.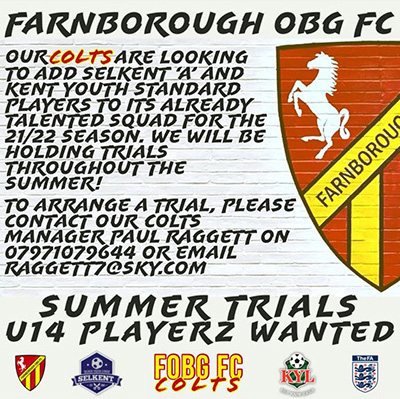 We have partnered with Living On

We are pleased to announce that Bromley-based
Living On
have become the official charity partner of our Saturday morning Academy. They are a local charity doing amazing work with bereaved families. We as a club will be putting on charity games for them to raise money, but also offering practical help by having families referred to ourselves each week to help support the children and their parents with organised sporting activities.
Academy head coach
Luke Johnson
told us:
"Living On have volunteers working tirelessly with families at their darkest and most vulnerable times. They are truly dedicated individuals who work on a very small donations. I am incredibly proud to call them our charity partner and hope we can work side by side for many years to help these families in any small way we can".
Karen Chapman
, Lead Family Support Worker for Living On, said:
"I was so thrilled to hear about Living On being the club's charity of the year but also the practical offer of a space for any of our children on your Saturday morning football session. Thank you for all that you are thinking of and offering us a charity".
Photos from Vets v. Baltic Vets on 2nd May
You can see Colin Brazier's photos of the Vets' match against Baltic Vets HERE.
Got an injury or niggle?
Don't forget, we are subscribed to Jon W Sports Injury for all our sports injury needs.
Jon W Sports Injury is a leading sports injury clinic who work with many clubs in the area offering expert injury assessment, treatment and football-based rehabilitation programs for the effective recovery of all sports injuries.
Both therapists have worked and at professional and semi-professional football level. All Guild players receive £5 off every treatment session with them. More information can be seen on their website www.jonwsportsinjury.co.uk but please feel free to contact them to discuss any needs.
Jon W Sports Injury has clinics in The Warren, Hayes and Charterhouse Road, Orpington. They operate flexible working hours to allow for after school/work appointments. They can be contacted at jonwsportsinjury@hotmail.co.uk or on 07825 835305.
NHS COVID-19 Contact Tracing App
Download the the official NHS COVID-19 contact tracing app HERE.
Our Social Media
As well as our website, we have an official presence on Facebook, Instagram, YouTube and Twitter. In addition, most of our nine teams have their own Twitter accounts.
FA CHARTER STANDARD

FOBG has held FA Charter Standard Adult Club status for several years now. This is official recognition by the Football Association given to non-league clubs that have demonstrated that they are well run and sustainable. It also recognises the club's commitment to coaching, player and coach development, and the raising of standards of behaviour in the game.
The benefits of having Charter Standard status include:
Use of the FA Charter Standard Logo
Enhancement of funding applications and bids
Kit and equipment grants from the Football Foundation
Exclusive workshops
Starter pack, including posters, codes of conduct, certificates
This represents a major step forward in the development of Farnborough OBG FC and illustrates the ambitions of the club to develop further both on and off the field.
Many thanks to Malcolm Poynter for his hard work in achieving this recognition for the club.
More information regarding FA Charter Standard status.