Welcome to the website of Farnborough Old Boys Guild Football Club, founded in 1932 and affiliated to the Kent County FA.
We hope you enjoy your visit.
RESULTS
Tuesday 11th August 2020
Sunday 9th August 2020
Friendly

Sunday XI
Lawrence Ennis-Webb Lewi Longhurst, Elliot Miles
3 - 0
Saturday 8th August 2020
Friendly

4 - 1
Reserves
Charlie Pitt (pen.)
FIXTURES
Tuesday 11th August 2020
Wednesday 12th August 2020
Saturday 15th August 2020
First XI v.
Sutton Athletic
Assistants:
Jack Smith and Steven Martin
Reserves v.
Eltham Eagles
Fourth XI v.
Erith & Belvedere Res.
Sunday 16th August 2020
Sunday Res. v.
Hatcham Beckenham Manor
Senior Vets v.
Nutfield Vets
NEWS
Abridged COVID-19 policy & Track and Trace form
Abridged FOBG COVID-19 policy: HERE
Track and Trace form HERE
Masks to be Worn within the Clubhouse
In changes with immediate effect we require
mandatory wearing of face masks
inside the clubhouse building at all times.
No face mask, no entry.
Please see the link below.
Important Message from our COVID-19 Officer
Hello Everyone,
I hope this finds you well. Farnborough OBG Sports Club and Farnborough OBG Football Club welcome the return of grassroots football shortly. We have been meeting and liaising with each other to ensure a safe return to football.
I, Paul Parsons, have been nominated the COVID-19 Officer for the club and you will need to be aware of a number of changes before you kick a ball in earnest.
All managers must read the guidance and must make sure that all players are aware of our new policies and procedures prior to commencing a game.
You will notice a number of changes within the club, so that social distancing is adhered to and also so that all staff, both paid and voluntary, feel safe to keep our facility open as much as is possible. This will also mean that we are fully insured, please do not be the person who does not read the whole email and then invalidates our insurance...
We set out a number of changes, firstly within the club and then latterly some of the FA Guidance which can also be found in full, here;
http://www.kentfa.com/covid-19-support-and-guidance
Within the club and grounds
Please adhere to up to date government guidelines at all times here:
https://www.gov.uk/coronavirus
Please DO NOT visit our club if you have any of the following symptoms:
A high temperature (above 37.8o C)
A new continuous cough.
Shortness of breath.
A sore throat.
Loss of, or change in normal sense of taste or smell.
Feeling generally unwell.
Been in close contact with/living with, a suspected or confirmed case of COVID-19 in the past two weeks
Please self-assess your health each time you visit our club. If in doubt, do not visit.
Please ensure you park a vehicle in a socially distanced way and please DO NOT share lifts with players outside your own household or 'bubble'. Please try to avoid public transport if possible.
ALL CLUB MEMBERS AND VISITORS MUST SIGN IN and give a contact number or be representing named visitors as part of a bubble
The main entrance to the clubhouse is now from the rear and is marked – please DO NOT use the former main entrance, this is to be used by STAFF ONLY
Please use the hand sanitiser provided on entering the building
A strict one way system is in place within the clubhouse, please make yourself aware of the new routes – exiting through the double doors only
Only 6 people maximum to use the changing rooms at any one time
Male toilet facilities are only available from the changing room entrance at the rear of the clubhouse – EXIT ONLY via the bar area
Female toilet facilities remain the same and can be accessed by the bar area.
NO SHOWER facilities will be available until further notice
If you require a drink before/after the game – please LINE UP by the kitchen area, behind the marked lines and WAIT to be called by the bar staff serving. Please DO NOT enter the marked square in front of the bar FOR ANY REASON unless asked to by the bar staff.
Contactless payments ONLY at the bar
For your safety, cleaning of handles/light switches and high touch areas of the club will be completed on a more regular basis throughout the day
Please note additional restrictions in place during the first few friendlies;
There will be no group gatherings of any type allowed inside the clubhouse function area
You MUST NOT use or move any furniture within the clubhouse unless asked to do so by a COVID-19 representative or member of bar staff
Only the changing rooms and associated toilets will be open, there will be no further access to the bar before the game commences
Female toilet facilities will be provided by The Woodman pub ONLY prior to a game
A marquee has been provided for groups to meet in a socially distanced way.
As managers you need to know the FA have certain stipulations that must be adhered to for a game of football to safely go ahead. Also, referees will be limiting their responsibility and will place certain emphasis on the managers and club to adhere to the new guidelines. As a Sports Club and Football Club, we too must make sure that we mitigate the risk of infection.
No chewing gum
No spitting
Please bring your own marked water bottle
You will need to provide your own assistant flags
When possible, you will need to disinfect the football when it is out of play
Additional PPE and spray will be provided as part of the First Aid kit.
You will need to clean the goal posts at half-time
There will be NO shower facilities on the day
http://www.kentfa.com/covid-19-support-and-guidance
Finally, we have updated our COVID-19 risk assessment policy which can be viewed as a PDF HERE.
If you have any questions do please ask one of the COVID committee for advice at a local level, in the first instance please contact myself.
Keep well
Stay well
Play well.
Take care everyone,
Paul Parsons
COVID-19 Officer and Fixture Secretary
Happy 60th Craig!
Happy birthday to club man Craig Ralph Snr who celebrated his 60th on Sunday!
FOBG Awarded Reopening Preparation Grant
We have been awarded a grant of £500 to help us safely reopen during the COVID-19 pandemic by the Football Foundation.
This is a fantastic boost to our efforts to provide the safest possible conditions for using the clubhouse and grounds as and when government and FA guidelines allow.
Many thanks to Matt Ellis and Luke Johnson for securing the funding.
Full details are in our press release which can be viewed HERE.
Enamel Badges
We have a new supply of FOBG enamel badges @ £3.50 each including postage.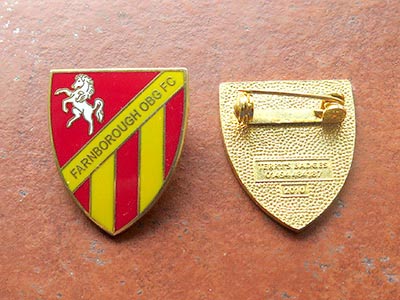 Email the club at mailbox@fobgfc.org if you would like to place an order.
Jazz at FOBG suspended
The Friday night jazz will not be running until further notice.
Our Social Media
As well as our website, we have an official presence on Facebook, Instagram, YouTube and Twitter. In addition, most of our nine teams have their own Twitter accounts.
Follow us on social media:
Twitter:
@fobgfc

(official, including First XI);
@fobg_reserves

(Saturday Reserves);
@fobg_sunday_1st

(Sunday First XI);
@fcfobg

(Sunday Reserves);
FA CHARTER STANDARD

FOBG has held FA Charter Standard Adult Club status for several years now. This is official recognition by the Football Association given to non-league clubs that have demonstrated that they are well run and sustainable. It also recognises the club's commitment to coaching, player and coach development, and the raising of standards of behaviour in the game.
The benefits of having Charter Standard status include:
Use of the FA Charter Standard Logo
Enhancement of funding applications and bids
Kit and equipment grants from the Football Foundation
Exclusive workshops
Starter pack, including posters, codes of conduct, certificates
This represents a major step forward in the development of Farnborough OBG FC and illustrates the ambitions of the club to develop further both on and off the field.
Many thanks to Malcolm Poynter for his hard work in achieving this recognition for the club.
More information regarding FA Charter Standard status.