Welcome to the website of Farnborough Old Boys Guild Football Club, founded in 1932 and affiliated to the Kent County FA.
We hope you enjoy your visit.
RESULTS
Sunday 23rd January 2022
OBDSFL
Premier Division
Match report

Friendly

Vets
Mark Fisher, Jay Gasson, Sean Blackwell (pen.)
3 - 4
Friendly

Lads of the Village Super Vets
0 - 3
Senior Vets
Jay Hardy, Kypros Michael, George Kleanthous
Match report

Saturday 22nd January 2022
Kent County League
Premier Division
Kent County League
Division 2 West
Bromley and South London Football League
Division 2
Fourth XI
TJ Kode 3 (2 pens), Joe Bresnahan, John James, Grant Kelsey
6 - 0
FIXTURES
Saturday 29th January 2022
Sunday 30th January 2022
NEWS
Tournament for Under 9s
This Sunday 30 January our Under 9s play in the Selkent Vase at London Marathon Playing Fields. They start with group matches at 9.15am: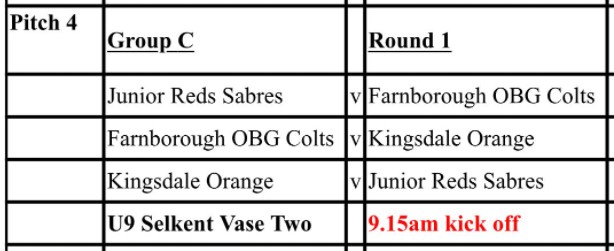 Last weekend's photo and video coverage
Club photographer Colin Brazier was at three of our games at the weekend, the Fourth XI v. Standard Ballers, First XI v. New Romney (second half only) and Sunday Reserves v. Groundhoppers. All the photos can be seen in our gallery HERE.
The full match video of the Sunday Reserves game can be viewed HERE.
Sunday Round-up
Four matches to report on Sunday; both the Sunday XI and Colts had a free week.
The Sunday Reserves went down 2-0 at home to Groundhoppers in a league match.
The Vets trailed 4-0 at home to Toby Vets before staging a comeback with goals from Mark Fisher, Jay Gasson (his first for the club) and Sean Blackwell but they missed a great chance to equalise just before referee Paul Parsons blew for full time.
The Senior Vets won 3-0 away to Lads of the Village Super Vets. Amazingly for a side having such a good season it was their first clean sheet of the campaign. The goals were shared between Kypros Michael, Jay Hardy and George Kleanthous. George's match report can be viewed HERE.
Our Under 9s continued their enjoyable season away to Hayden Youth.
Saturday Round-up
The First XI took on high riding New Romney at Farrow Fields in the league, having been trounced 9-0 in the return fixture back in October. This time FOBG lost 4-1, but their performance merited a closer scoreline. Christian Fisayo got a first half equaliser but Romney regained the lead a minute later and doubled their advantage midway through the second half. The home side kept pressing, to no avail, and Romney wrapped it up in injury time.
The Reserves travelled to Erith and Belvedere Reserves in the league and were beaten 2-0. The teams meet again in the return fixture at Farrow Fields this Saturday.
The Fourth XI brushed off the challenge of Standard Ballers 6-0 in a league match at home. Having narrowly won the return fixture last week, Jez Allen's side roared out of the blocks with a hat-trick inside the first 20 minutes from leading scorer TJ Kode, including two penalties. He was then promptly substituted, to return in the second half under the roll on, roll off substitution procedure. New signing Joe Bresnahan, John 'Tucks' James and Grant Kelsey completed the scoring.
The Third XI had no scheduled fixture.
Got an injury or niggle?
Don't forget, we are subscribed to Jon W Sports Injury for all our sports injury needs.
Jon W Sports Injury is a leading sports injury clinic who work with many clubs in the area offering expert injury assessment, treatment and football-based rehabilitation programs for the effective recovery of all sports injuries.
Their therapists have worked and at professional and semi-professional football level. All Guild players receive £5 off every treatment session with them. More information can be seen on their website www.jonwsportsinjury.co.uk but please feel free to contact them to discuss any needs.
They have an app which can help you schedule appointments quickly, view your existing appointments, see your rehabilitation programs and see all of their videos to help you with pain. All in one FREE app. Click here to download it.
Jon W Sports Injury has clinics in The Warren, Hayes and Westcombe Park Rugby Club, Orpington. They operate flexible working hours to allow for after school/work appointments. They can be contacted at jonwsportsinjury@hotmail.co.uk or on 07825 835305.
Under 9 Goalkeeper Wanted
We are looking for a goalkeeper for our Under 9 team which plays in the Selkent League.
For more information please contact Paul Raggett on 07971 079644 or email Raggett7@sky.com.
Under 14 Player Wanted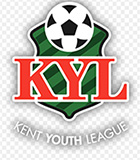 We are looking for one new outfield player to join our Under 14 Colts squad in the Central Division of the Kent Youth League.
For more information please contact Paul Raggett on 07971 079644 or email Raggett7@sky.com.
Our Social Media
As well as our website, we have an official presence on Facebook, Instagram, YouTube and Twitter. In addition, most of our nine teams have their own Twitter accounts.
FA CHARTER STANDARD

FOBG has held FA Charter Standard Adult Club status for several years now. This is official recognition by the Football Association given to non-league clubs that have demonstrated that they are well run and sustainable. It also recognises the club's commitment to coaching, player and coach development, and the raising of standards of behaviour in the game.
The benefits of having Charter Standard status include:
Use of the FA Charter Standard Logo
Enhancement of funding applications and bids
Kit and equipment grants from the Football Foundation
Exclusive workshops
Starter pack, including posters, codes of conduct, certificates
This represents a major step forward in the development of Farnborough OBG FC and illustrates the ambitions of the club to develop further both on and off the field.
Many thanks to Malcolm Poynter for his hard work in achieving this recognition for the club.
More information regarding FA Charter Standard status.