Welcome to the website of Farnborough Old Boys Guild Football Club, founded in 1932 and affiliated to the Kent County FA.
We hope you enjoy your visit.
RESULTS
Sunday 27th November 2022
London Sunday Trophy
2nd round
1 - 2
Sunday XI
Dekklund Wallace (pen.), Steve Townsend
Friendly

1 - 8
Senior Vets
Jack Loizou 3, Landy Sakala 2, Chisa Mkala, Aaron McWilliams, OG
Kent Under 15 Boys Cup
3rd round
2 - 1
Colts
AET. 90 mins 1-1 Scorer: George Raggett
Tandridge Youth League
U13s Div 2
Under 13s
Ollie Gain 2, Tyler Nicholas
3 - 1
Saturday 26th November 2022
Kent County League
Division 2 West
Bromley and South London Football League
Division 1
Second XI
TJ Kode, Jack Hollidge
2 - 1
FIXTURES
Saturday 3rd December 2022
First XI v.
Fleetdown United Res.
Comp:
Kent County League
Division 2 West
Comp:
Ron Pope Cup
1st round
Sunday 4th December 2022
Sunday XI v.
To be advised
Sunday Res. v.
No fixture
Senior Vets v.
Mayfair Vets
Comp:
Queen Elizabeth II Cup
Quarter-final
Comp:
Kent Youth League
Under 15C
Under 13s v.
Shirley Town
Comp:
Tandridge Youth League
U13s Div 2
NEWS
Weekend Round-up: 26/27 November
The First XI suffered by far their heaviest defeat of the season when local rivals Orpington beat them 5-1 at Goddington in the league. George Osman got the Guild's consolation goal.
By way of a contrast, the Second XI toppled previously unbeaten Crofton Albion 2-1 at Farrow Fields, also in a league game. TJ Kode and Jack Hollidge were on target.
The Sunday XI won their fifth consecutive match, 2-1 against Croydon-based Bosjam at Purley Way in the London Sunday Trophy. Dekklund Wallace and Steve Townsend got the goals for FOBG.
The Vets' unbeaten record came to an end away to Toby Vets with a 4-1 defeat. Gary Harrigan continued his good form with a goal. According to player/manager Damien Preston, the result wasn't unjust: "We weren't at the races today, especially in the first half. We were much the better side in the second half but couldn't convert our chances. Hats off to their keeper who made some crucial saves."
The Senior Vets won 8-1 away to Beckenham Vets. Player/manager George Kleanthous reported that is was a closer match than the score suggests and that his side's clinical finishing was the difference. Jack Loizou hit three, Landy Sakala two with Chisa Mkala and Aaron McWilliams getting one apiece. There was also an own goal, the team's sixth highest scorer this season with five!
The Colts' Kent Under 15 Boys Cup campaign ended at the hands of K Sports in Maidstone. A missed penalty and an individual error for the decisive extra-time goal were the vital factors in the 2-1 defeat.
The Under 13s recovered well from last week's heavy cup defeat to beat Beckenham Town Green 3-1 in the league at Farrow Fields. Ollie Gain got his first compeititve goals for the club, with Tyler Nicholas also on the scoresheet.
Junior Section Christmas Party
The Guild's junior section enjoyed its Christmas party on Friday, raising £370 for club charity Living On in the process. Over 100 people attended, close to the club's capacity.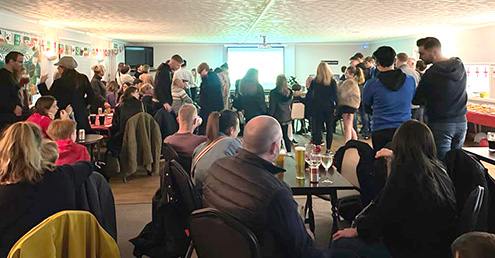 FOBG Sunday Reserves
It is with great regret that we have had to withdraw our Sunday Reserves team from competition.
Manager Danny Mann tried all avenues to keep the side together; however, a number of long term injuries, coupled with players leaving after the start of the season, left us with no alternative.
We would like to thank the officers of the Orpington, Bromley and District Sunday Football League for their understanding, giving us time to regroup and address the situation, but unfortunately to no avail.
Got an injury or niggle?
Don't forget, we are subscribed to Jon W Sports Injury for all our sports injury needs.
Jon W Sports Injury is a leading sports injury clinic who work with many clubs in the area offering expert injury assessment, treatment and football-based rehabilitation programs for the effective recovery of all sports injuries.
Their therapists have worked and at professional and semi-professional football level. All Guild players receive £5 off every treatment session with them. More information can be seen on their website www.jonwsportsinjury.co.uk but please feel free to contact them to discuss any needs.
They have an app which can help you schedule appointments quickly, view your existing appointments, see your rehabilitation programs and see all of their videos to help you with pain. All in one FREE app. Click here to download it.
Jon W Sports Injury has clinics in The Warren, Hayes and Westcombe Park Rugby Club, Orpington. They operate flexible working hours to allow for after school/work appointments. They can be contacted at jonwsportsinjury@hotmail.co.uk or on 07825 835305.
Our Social Media
As well as our website, we have an official presence on Facebook, Instagram, YouTube and Twitter. In addition, most of our nine teams have their own Twitter accounts.
FA CHARTER STANDARD

FOBG has held FA Charter Standard Adult Club status for several years now. This is official recognition by the Football Association given to non-league clubs that have demonstrated that they are well run and sustainable. It also recognises the club's commitment to coaching, player and coach development, and the raising of standards of behaviour in the game.
The benefits of having Charter Standard status include:
Use of the FA Charter Standard Logo
Enhancement of funding applications and bids
Kit and equipment grants from the Football Foundation
Exclusive workshops
Starter pack, including posters, codes of conduct, certificates
This represents a major step forward in the development of Farnborough OBG FC and illustrates the ambitions of the club to develop further both on and off the field.
Many thanks to Malcolm Poynter for his hard work in achieving this recognition for the club.
More information regarding FA Charter Standard status.