COVID-19
All Matters Relating to FOBG and the COVID-19 Pandemic
FA Update on 'Non-elite' Football
Almost all legal restrictions of social contact have been removed; however, the Government is encouraging people to act with caution. Our guidance has therefore been updated to reflect this.
The summary key points are:
On field adaptions for playing football are no longer required.
No limits of how many people can meet.
The "one metre plus rule" no longer applies.
The definition of close contact remains the same; however, the rules on self-isolation have changed.
Face coverings are no longer required by law, but recommended in crowded indoor settings and may be mandated by some clubs or facility providers.
Changing rooms can be used; however, participants should use their own judgement and minimise use where possible to avoid close contact in a crowded area for a prolonged time.
No capacity limits for spectators but good practice is encouraged.
Hospitality is permitted without restrictions.
NHS Test and Trace QR codes are not required by law but are encouraged.
No domestic travel restrictions. Participants should continue to follow Government advice on international travel for any fixtures/tournaments.
Abridged COVID-19 Policy & Track and Trace Form
Abridged FOBG COVID-19 policy: HERE
Track and Trace form for download HERE
FOBG COVID-19 Guidelines
Hello Everyone,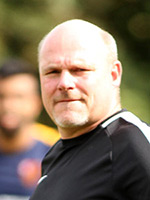 I hope this finds you well. Farnborough OBG Sports Club and Farnborough OBG Football Club welcome the return of grassroots football. We have been meeting and liaising with each other to ensure a safe return.
I, Paul Parsons, have been nominated the COVID-19 Officer for the club.
All managers must read the guidance and must make sure that all players are aware of our policies and procedures prior to commencing a game.
Please adhere to up to date government guidelines at all times here: https://www.gov.uk/coronavirus
Please DO NOT visit our club if you have any of the following symptoms:
A high temperature (above 37.8o C)
A new continuous cough.
Shortness of breath.
A sore throat.
Loss of, or change in normal sense of taste or smell.
Feeling generally unwell.
Been in close contact with/living with, a suspected or confirmed case of COVID-19 in the past two weeks.
Please self-assess your health each time you visit our club. If in doubt, do not visit.
http://www.kentfa.com/covid-19-support-and-guidance
Finally, our COVID-19 risk assessment policy can be viewed as a PDF HERE.
If you have any questions do please ask one of the FOBG committee for advice at a local level, in the first instance please contact myself on 07974 367305.
Keep well.
Stay well.
Play well.
Take care everyone,
Paul Parsons
COVID-19 Officer and Fixture Secretary