COVID-19
All Matters Relating to FOBG and the COVID-19 Pandemic
Restart of the Season
With the restart of the season approaching, please see below for the latest FA information based on government guidance. The main things for us and other clubs will be as follows:
Changing rooms: Changing rooms cannot be used as part of step one in the roadmap out of lockdown and must remain shut. Toilets will be allowed to open, 30 minutes before and 30 minutes after training and/or matches. All government guidance on hygiene and social distancing measures must be followed.


Spectators: No spectators are allowed at grassroots football as part of step one of the Government's roadmap. One parent or guardian per child is permitted, where clubs and facilities can safely accommodate this and following all appropriate guidance.
Abridged COVID-19 Policy & Track and Trace Form
Abridged FOBG COVID-19 policy: HERE
Track and Trace form for download HERE
FOBG COVID-19 Guidelines
Hello Everyone,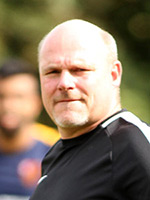 I hope this finds you well. Farnborough OBG Sports Club and Farnborough OBG Football Club welcome the return of grassroots football. We have been meeting and liaising with each other to ensure a safe return.
I, Paul Parsons, have been nominated the COVID-19 Officer for the club and you will need to be aware of a number of changes before you kick a ball in earnest.
All managers must read the guidance and must make sure that all players are aware of our new policies and procedures prior to commencing a game.
You will notice a number of changes within the club, so that social distancing is adhered to and also so that all staff, both paid and voluntary, feel safe to keep our facility open as much as is possible. This will also mean that we are fully insured, please do not be the person who does not read the whole email and then invalidates our insurance...
We set out a number of changes, firstly within the club and then latterly some of the FA Guidance which can also be found in full, here:
Within the club and grounds
Please adhere to up to date government guidelines at all times here: https://www.gov.uk/coronavirus
Please DO NOT visit our club if you have any of the following symptoms:
A high temperature (above 37.8o C)
A new continuous cough.
Shortness of breath.
A sore throat.
Loss of, or change in normal sense of taste or smell.
Feeling generally unwell.
Been in close contact with/living with, a suspected or confirmed case of COVID-19 in the past two weeks.
Please self-assess your health each time you visit our club. If in doubt, do not visit.
Please ensure you park a vehicle in a socially distanced way and please DO NOT share lifts with players outside your own household or 'bubble'. Please try to avoid public transport if possible.
ALL CLUB MEMBERS AND VISITORS MUST SIGN IN and give a contact number or be representing named visitors as part of a bubble.
The main entrance to the clubhouse is now from the rear and is marked – please DO NOT use the former main entrance, this is to be used by STAFF ONLY.
Please use the hand sanitiser provided on entering the building.
A strict one way system is in place within the clubhouse, please make yourself aware of the new routes – exiting through the double doors only.
Only 6 people maximum to use the changing rooms at any one time.
Male toilet facilities are only available from the changing room entrance at the rear of the clubhouse – EXIT ONLY via the bar area.
Female toilet facilities remain the same and can be accessed by the bar area.
NO SHOWER facilities will be available until further notice.
If you require a drink before/after the game – please LINE UP by the kitchen area, behind the marked lines and WAIT to be called by the bar staff serving. Please DO NOT enter the marked square in front of the bar FOR ANY REASON unless asked to by the bar staff.
Contactless payments ONLY at the bar.
For your safety, cleaning of handles/light switches and high touch areas of the club will be completed on a more regular basis throughout the day.
Please note additional restrictions in place during the friendlies:
There will be no group gatherings of any type allowed inside the clubhouse function area.
You MUST NOT use or move any furniture within the clubhouse unless asked to do so by a COVID-19 representative or member of bar staff.
Only the changing rooms and associated toilets will be open, there will be no further access to the bar before the game commences.
Female toilet facilities will be provided by The Woodman pub ONLY prior to a game.
As managers you need to know the FA have certain stipulations that must be adhered to for a game of football to go ahead safely; also, referees will be limiting their responsibility and will place certain emphasis on the managers and club to adhere to the new guidelines. As a Sports Club and Football Club, we too must make sure that we mitigate the risk of infection:
No chewing gum.
No spitting.
Please bring your own marked water bottles.
You will need to provide your own assistant flags.
When possible, you will need to disinfect the football when it is out of play.
Additional PPE and spray will be provided as part of the First Aid kit.
You will need to clean the goal posts at half-time.
There will be NO shower facilities on the day.
http://www.kentfa.com/covid-19-support-and-guidance
Finally, we have updated our COVID-19 risk assessment policy which can be viewed as a PDF HERE.
If you have any questions do please ask one of the COVID committee for advice at a local level, in the first instance please contact myself on 07974 367305.
Keep well.
Stay well.
Play well.
Take care everyone,
Paul Parsons
COVID-19 Officer and Fixture Secretary