Sunday round-up
The Sunday XI got back to winning ways with a 5-1 triumph over last week's nemeses Cudham United at Farrow Fields. George Perfitt scored two, the others were provided by Gary Harrigan, Jake Adams and Richard Pile.
The Sunday Reserves visited their Cudham counterparts, and finished on the wrong end of a 2-1 scoreline. Dan Waller scored for the Guild.
The Young Vets beat Lads of the Village Vets 3-0 at home with goals supplied by Jon Redmond, Barry Cleaver and Daragh Nott.
The Senior Vets were edged out 3-2 away to Inter Vyagra Super Vets. Waine Hetherington got both FOBG goals.
---
Saturday round-up
The First XI maintained their 100% start to the season with a 3-1 win at Belvedere in the league. New Club Captain Alex Barnes, Aaron Evans and Luke Foulsham got on the scoresheet.
The Reserves' tough start to the season continued with a 5-1 league reverse at home to high flying South East Athletic at Farrow Fields. Rob Osborne got his first competitive goal at this level.
Both the
Third XI
and
Fourth XI
progressed in their sections of the Kent Junior Cup. The Thirds beat Beaverwood 7-1 at home with a hat-trick from

Gary Harrigan

, two from

Mickey McGuire

and one apiece from

Joe Suttie

and Grant

Kelsey

.
The
Fourth XI
went down to Gravesend and beat FC Grand 4-1 with ten men. The Guild goals were scored by

Dan Herbert

with two,

Harry Tanner

and

Alex Cramp

(his first goal for FOBG).
---
Keith's quiz is back!
Keith Beston's world famous quiz is making a welcome return to the club on Saturday 31 October at 8pm. Always a fun and illuminating evening!
£6 per person, teams of up to 8. Sandwiches will be provided.
Enter your team on the noticeboard at the club, or email us by clicking HERE.
We look forward to seeing you there!
---
Where does our money go?
Most FOBG club members, apart from the management committee and the treasurer, will rarely think about the club's financial affairs. Annual subscriptions and match fees are paid by players without a thought as to how that money is used, because that is the right thing to do when you belong to a club, and because implicitly you trust the club with this money. We would like to show you what we do with some of your money.
Last week, for example, we spent £800 (16 players' annual subs, or the income from five games' match subs) on a Verti-Drain procedure (full details in the article below) to address a problem that has affected every team in the club at some point or another in past seasons – and that is when you see the words "pitch waterlogged" on the website where you expect to see a match result, in the winter. Well, the FOBG Terrain Improvement Tsar, Roger French, has enlisted the help of Bourne Amenity Ltd to give all club members a better chance of playing winter home matches.
The prompt payment of annual fees for this season by many players from all Guild teams has made this possible – so the club would like to say thank you to all concerned. But we need your continued support. The club's financial statement for the year ending 30 June 2015, which you are welcome to see, shows that we raised £18,557.65 in annual fees and match subscriptions whilst our expenditure in the same period amounted to £19,035.97. You do the maths.
---
Pitch maintenance news
Both our pitches were treated with a Verti-Drain process last week. You can view a 47 second-long video of it here.
We are grateful to Martin from Bourne Amenity who carried out the procedure, with Bunny Beston, Steve Viner and Roger French in attendance from FOBG.
The process not only spikes the soil to a suitable depth but also heaves it as in the action of sticking a fork into the ground and pushing down on the handle. This has the effect of cracking the subsoil and aiding the process of decompaction; therefore when it rains water does not sit on top of the surface but drains through the holes and dissipates through the cracks down to the drainage pipes (well that is the theory).
The ultimate solution would be to then fill the holes with sport sand in order to keep the holes open but the sand is very costly and is something to aim for at a later stage.
---
Thanks Billy!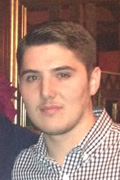 Many thanks to Billy Squires who has had management thrust upon him looking after the Sunday Reserves in the last few weeks.
This is much appreciated by the team and the club.
---
A club record?
If the OBSDFL fixtures do not change until 15 November (a long shot, we agree), thanks to friendlies being played at Farrow Fields and a series of home cup draws, the Sunday 1st XI will have played 14 (fourteen) consecutive home games.
---
Elvis will be in the building!
Elvis, in the shape of official and current World Cup and European Elvis Tribute Champion Johnny Lee Memphis, is coming to FOBG in early November - book now to secure your ticket!
---
FOBG Club Clothing
The Club in conjunction with Winston Sports have commissioned a range of FOBG clothing incorporating the club badge and optional name or initials. The price range is as shown below and if you are interested in purchasing any item please contact Roger French, Senior Vets co-manager, or email the club giving details of item required, size and initials to be added if desired.
FOBG Club Clothing

Scarves (NEW - 2 designs available)

£10.00

Sweatshirts
£17.00
Hoodies
£19.00
Full zip hoodies
£21.00
Rain jackets
£27.00
Rain trousers
£19.00
Polo Shirts
£16.00
Beanie
£8.00
T-shirts
£11.00
Add initials
£4.00
Add name
£6.00
| | | | | | |
| --- | --- | --- | --- | --- | --- |
| Size Guide | XS | S | M | L | XL |
| Sweatshirts, hoodies, polo shirts | 36 | 38 | 40 | 42-44 | 46 |
| Rain jackets | - | 34-36 | 38-40 | 42-44 | 46-48 |
---
Training update
Club training is now as follows:
Saturday and Sunday 1st XIs: Bishop Justus School, Wednesdays 8-9pm.
Saturday and Sunday Reserve XIs: Priory Leisure Centre, Wednesdays 8-9pm.
New players are always welcome, and are requested to contact the club.
---
New season subs are due now!
We remind players that their annual subs of £50 are due now. The club has frozen annual fees and match subs at 2014-15 levels.
You can make safe online payments HERE.
Instalment facilities are available. Email the club for details.
---
Disciplinary and Match Day Fines
Now that we are moving into the start of league games it is time to remind players of the process for payment of fines incurred from yellow and red cards and disciplinary issues.
Every player that registers to play league/cup football for Farnborough Old Boys Guild (FOBG) agrees to abide by the rules of not only the club but of the league that they play in. As a result players will be responsible for the payment of any disciplinary fines arising during matches played.
Once a fine has been officially notified to the club the appropriate team manager and the player concerned will be notified by email and/or text msg. The player will then have 14 days to settle the balance with the club treasurer.
If payment is not made by the end of this period the player concerned will be asked to submit a written explanation to
mailbox@fobgfc.org
detailing why payment has not been made. This will be reviewed by the Management Committee at the next available monthly meeting and an appropriate decision will be made to resolve payment.
If no written explanation is provided by the player by the next available Committee meeting or the player persists in non-payment then the Management Committee will consider suspending the player from playing for FOBG until part or full payment has been received.
---
Games played
Sunday 11th October 2015
OBDSFL
Division 2
Sunday XI


George Perfitt 2, Jake Adams, Gary Harrigan, Richard Pile

5 - 1
Cudham United


OBDSFL
Division 4
Cudham Utd Reserves

2 - 1
Sunday Res.


Dan Waller

Friendly

Young Vets XI


Jon Redmond, Barry Cleaver, Daragh Nott

3 - 0
Lads of the Village Vets


Friendly

Inter Vyagra Super Vets

3 - 2
Senior Vets XI


Waine Hetherington 2
Games played
Saturday 10th October 2015
NRG Kent County League
Division 1 West
Belvedere

1 - 3
First XI


Luke Foulsham, Alex Barnes, Aaron Evans

NRG Kent County League
Division 3 West
Reserves


Rob Osborne

1 - 5
South East Athletic


---

Kent Cup
1st round
Third XI


Gary Harrigan 3, Mickey McGuire 2, Grant Kelsey, Joe Suttie

7 - 1
Beaverwood


Kent Cup
1st round
FC Grand

1 - 4
Fourth XI


Dan Herbert 2, Harry Tanner, Alex Cramp
Fixtures for
Saturday 17th October 2015
First XI v.




Fleetdown United 'B'

MATCH POSTPONED


Home at:

Farnborough Sports Club
Comp:
Sevenoaks Cup
1st round

Reserves v.




Meridian VP Reserves

Away at:

Meridian Sports and Social Club, Charlton Park Lane, SE7 8QS
Comp:
NRG Kent County League
Division 3 West
Kick off:
2:45pm
Meet:
1:15pm
Referee:
Martin Cook
Assistants:

Third XI v.




Our Lady Seniors

Home at:

Farnborough Sports Club
Comp:
South London Alliance
Division One
Kick off:
3:00pm
Meet:
1:45pm
Referee:
Bob Legg
Assistants:

---

Fourth XI v.




Eden Park Rangers

Home at:

Farnborough Sports Club
Comp:
Bromley League
Premier Division
Kick off:
12:30pm
Meet:
11:30am
Referee:
John Bradbury
Assistants:
Fixtures for
Sunday 18th October 2015
Want your annual subs refunded? Read on...
Are you covered? Are you self-employed? Would you still get paid if you were off work with a bad football injury or illness? Does your employer provide sickness benefits for you? You can insure yourself against this and if you proceed with an application you would get £50 CASHBACK within one month to pay your annual subs fees.
Call Vince Wray on 0208 289 8221 or 07956 359579 to find out more. Ellex offer a range of financial services - click on their logo to visit their website.